SHE CAME TO STAY – Eleni Kyriacou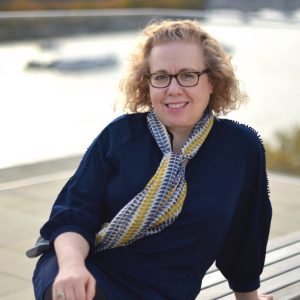 Set in the fog-bound streets of London in 1952, She Came To Stay tells the story of Dina, a Greek Cypriot immigrant. Dina is working hard to build a better life, but when she meets the mysterious and alluring Bebba, Dina is forced on to a new and dangerous path. What follows is a dark and poignant tale about the adventures and dangers of life in a new country, and of friendship and family and what can happen when those bonds are tested to their limits.
Eleni Kyriacou is a freelance writer and editor who has written for the Guardian and Marie Claire and has completed a Curtis Brown Creative course. Her parents came over to England from Cyprus in 1949 and she grew up in London in the 1970s.
Eleni Kyriacou said: "I'm thrilled that this tale of Cypriots trying to survive London in the 1950s is going to be published. When you're caught between two cultures, you feel different – not quite one nationality, not quite the other, whether that's in today's Britain or the fog-filled streets of the 1950s.  Where are the stories that reflect my life and the lives of my parents? And what about other immigrants and their children? We need all our experiences reflected in culture, otherwise we're invisible, non-people, forever explaining our tricky surnames with brief potted histories before the questioner loses interest. I've never read a story about coming here as a young Cypriot woman, as my mother did, so I had to write it. When asked about my heritage, it would be wonderful to point to a book and say, 'There. That's me. That's where I'm from and that's what made me who I am.' Future Bookshelf have made that possible."
Her editor, Cicely Aspinall said: "When I read the sample submitted to the Future Bookshelf, I was instantly impressed by how Eleni expertly brings the grit, glamour and grind of 1950s Soho to life with a gripping story inspired by her parents. I knew immediately that I wanted to publish this brilliant novel and I'm delighted to be working with Eleni and Niki to launch Eleni's career as a novelist."
EXTRACT
I'd worked at the Pelican Revue for two weeks before the blonde starlet spoke to me.
Despite hours on my feet, serving grease-slicked meals in the café, when the clock pointed to six I couldn't get there quick enough. Audrey was thrilled to slip the extra shillings into her pocket. And Peter? Well, he was blind to it all. When he wasn't on nights at Mackenzie's earning a few extra pounds himself, he was at the kaffenio downing double Johnnie Walkers and losing it. By the time he stumbled into the flat and kicked off his shoes, I was tucked up in bed like all good Greek girls.
In the chilly workroom, streaks of fog still wept from the walls but the gloom had somehow lifted. Treadles clattered, machines whirred and there was a constant hum as the twelve of us talked and joked in various languages, all the time feeding fabric through the machines. When Madame B came downstairs, we lowered our voices, dipped our heads closer to our work and gathered our brows in sudden concentration.
Next to me sat a Maltese woman who spoke no English. Opposite her, a Bangladeshi whose only full sentence was 'excuse me please, but I am lost'. And yet, with our own nods and gestures we understood each other as we whirred away the hours. We also understood why each of us was here; we wanted more. More than we were born into, more than the life we'd been assigned. We were here because we'd heard this was the place where family background or land or lack of it didn't count, where we could escape the generations of poverty and make something new. As we worked away, sewing the fantasies of the men who paid to watch women on stage, our dreams lived outside these walls.
The movie star was a 'finisher' – the end of the production line, snipping stray cottons and checking everyone's work. Her hands worked with deftness, but she never rushed. Also, she didn't speak. I doubted it was shyness for she had an aura, a confidence that spun about her head like candy floss which I could almost taste as I walked past (and I walked past her often, on the pretext of fetching something or other). Occasionally, she'd take her fake leopard skin coat from the back of her chair and pull it over her shoulders, as though it were a cloak and she a queen.
The night it happened, Madame B caught me just as I'd grabbed my bag.
'Dressing room three please, Dina. Cowgirl's wrecked her fringing.'
'Yes, Madame.'
Hand-sewn repairs meant double pay, so I wasn't complaining. With my coat on I climbed the stairs up to the club itself. I pushed open the heavy wooden door and a soft wall of smoke and jazz brushed against my face.
When I'd started, I'd been nervous walking through the two-deep crowd of men huddled around the bar but I soon realised that they hardly saw me.  Not when there were half-naked burlesque girls on stage. The punters stood, trilbies in hand, macs over arms, in a state of readiness to leave, despite the fact they'd most likely be there all night.
As I weaved my way through the crowd, cymbals clashed and a huge whoop of delight went up. I turned to see the Wayward Twins run on stage. They weren't twins – they simply wore the identical golden, shoulder length wigs – but these men weren't fussy. Fresh-faced, twenty if that, the girls dazzled in their shiny top hats, tiny black satin shorts and transparent silver chiffon blouses that gave the impression they were wrapped in the cigarette smoke.
They pointed to their audience with their canes and made out to reprimand the men for their noisy reception, which of course got the men cheering even more. The music began and as they started their tap routine I pushed on, happy to be invisible.
The only other women in the club were the bored-looking creatures who called 'Cigars, cigarettes, cigars, cigarettes,' incessantly, and held laden trays just under their cleavages.
I nudged my way into dressing room three.
'About bloody time!' said a sulky redhead. She sat on a dressing table, sucking on a ciggie and kicked her leg to show me the fringing.
'Come on, you. I'll miss my slot and she won't pay me.'
I took my time getting the drawstring sewing bag from the shelf then settled near her feet, threaded a needle and looked at the damage.
'You do speak Eeennglish?' she asked. 'Do you understand? In a hurry.'
'Yes, I understand.'
I took hold of the fringe. The gold tassels hung limply where the seam had come undone, but she'd also stepped on it and there was a rip. We both knew she would pay a double fine for this – a shilling for the damage and another for trying to hide it from Madame B.
'Keep your legs still,' I said, as I set to work.
She smoked throughout, muttering about the injustice of it all. The other girls dodged around us in the cramped dressing room, ignoring her moans as they squeezed into outfits and slicked on lipstick. Within a few minutes I'd stitched the golden fringing in place and mended the rip.
'There.' I had barely cut the thread off before she jumped up and started rummaging in her make-up bag.
'I don't know why it took you so long…'
Needle still in hand, I was sorely tempted to shove it in her bottom. But instead I packed away the bag.
'You're welcome,' I called as I left the room. Ungrateful cow.
Outside, I pulled my mac tight around my waist and made for the exit. That's when I saw Ratface, his back to me as he leaned in a corner, talking to someone. I was about to walk out when I noticed a triangle of leopard skin coat poking out from between his leg. I stepped closer. He had one hand splayed on the wall next to her head and the other hovered an inch from her face as he bent close and whispered into her ear. Her jaw was set firm and her eyes were cast down as she tried to edge away from his touch. I often wonder how life would have turned out if I hadn't done what I did next.